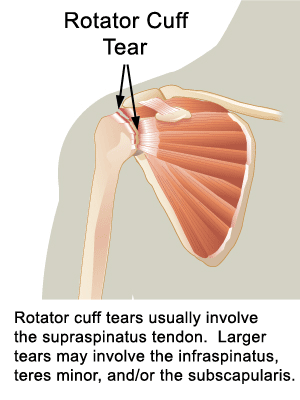 Rotator cuff injuries are a very common shoulder problem that can be caused by a number of factors and affects people of all ages. The rotator cuff is actually made up of 4 muscles and their associated tendons. The purpose of the 'cuff' is to allow for stability of the shoulder throughout its range of motion, making it a very complex and crucially important set of muscles for a lot of physical activity.
The linked article below provides education on the proper treatment strategies for rotator cuff injuries. It also discusses the importance and benefits of physical therapy, which can help reduce pain, while also increasing strength and range of motion.
The article also gives goes specific exercises to help with increasing rotator cuff strength and scapular stability.
It also provides information on what exercises to avoid. It's important to consult with your physician or physical therapist concerning what exercises are appropriate for you to perform on your own.